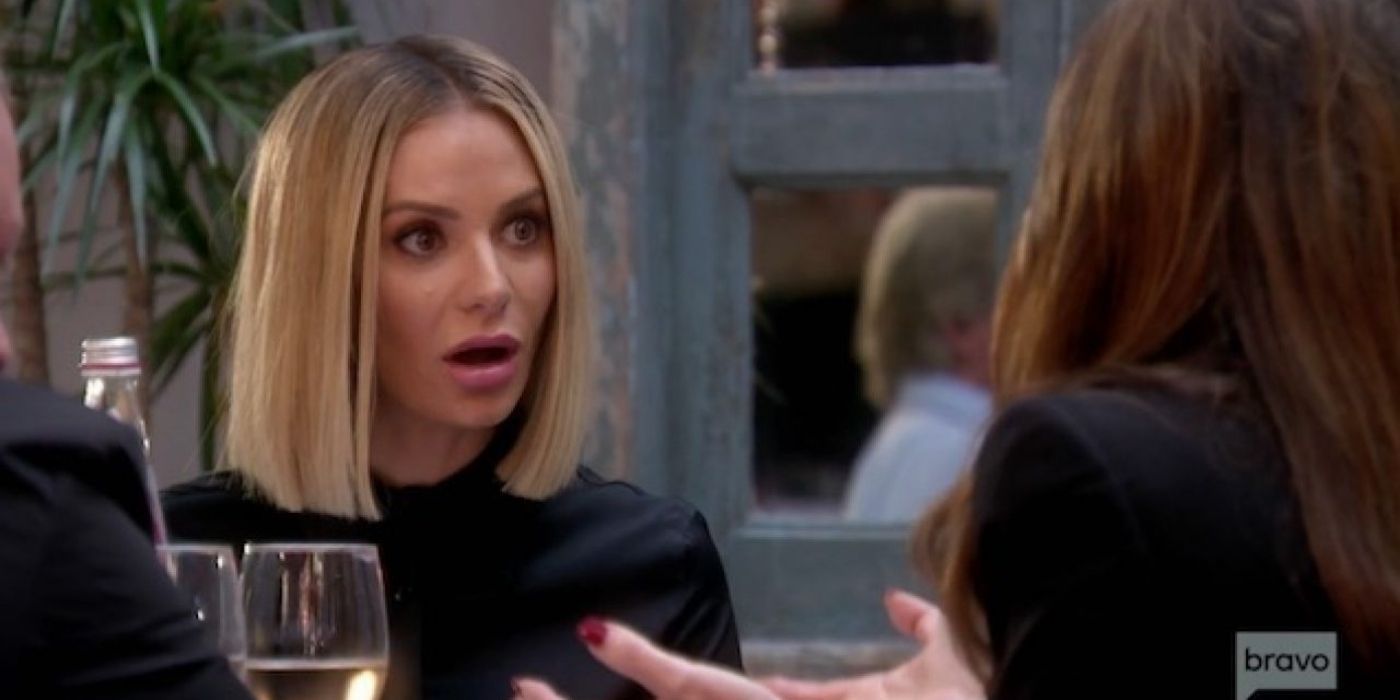 Dorit Kemsley from The Real Housewives of Beverly Hills shared a video of herself filming her intro looks for season 11. Fans noticed how completely different her face compared to seasons before. While Dorit may look phenomenal in her Dorit & Nektaria blue satin gown, fans are not loving the fillers she got done to her face. Dorit is a beautiful woman, and fans are worried she is trying too hard to look like every other woman in Hollywood.
Since Dorit joined the cast for season seven in 2017, fans have noticed a sight change in Dorit's facial appearance. When she first joined the show, Dorit seemed like a simple girl from Beverly Hills who was trying to cohesively fit with the other ladies on the cast. She hit a bump or down throughout season 7 when she bought Erika Jayne a pair of underwear after Dorit's husband pointed out Erika was not wearing any. Since then, Dorit has become close with several of her cast members, past and present, but still feels the need to give her face the typical Southern California look.
Related: The Real Housewives Of Beverly Hills: 5 Times Fans Supported Dorit (& 5 Times She Went Too Far)
On Monday, Dorit Kemsley took to Instagram to upload a Reels video of herself filming her intro looks for season 11 of RHOBH. In the video, Dorit is seen on the phone letting the person on the other line know she is "doing hot girl s**t." Dorit then begins posing for the camera's showing off her gorgeous dress and fierce attitude. While fans are loving her style for the intro, they don't love how unrecognizable she looks. On Reddit, fans commented on Dorit's ever-changing face, and most of the comments were not positive. One fan commented on what enhancements she may have done, "Every other person here has lip fillers and overdrawn eyebrows."
Another fan spoke about how everyone has been striving to have the same face, "I hate how everyone is getting the same face and turning into KimK. It's honestly scary," they wrote, adding, "Dorit was really pretty, too." Back on Instagram, many friends of Dorit's left fire emoji's in her comment section, such as Marlo Hampton from RHOA and hairstylist Justin Anderson, but fans still could not get over how different she looks. One fan simply called her "unrecognizable" while others compared her appearance to Kim Kardashian. Several fans admitted they thought Dorit was Kim when they first saw the video. While Dorit probably did get some work done, a filter was added to mask any imperfections.
Dorit always had a distinctive look, so to see her heavily change her facial appearance can be disheartening for some. Most fans aren't against fillers or even plastic surgery; their reactions are more surprise about how much she has changed since she appeared on season 10. While it is clear Dorit had a little nip and tuck, she is also using a filter that has somewhat altered her appearance. In any case, next season fans will get to see the Real Housewives of Beverly Hills' star's face without a filter.
Next: RHOBH: How Erika Jayne Makes Most of Life Despite Tom Girardi's Memory Loss
Sources: Dorit Kemsley (Instagram), Reddit