Shaquille O'Neal is one of the richest and most famous athletes in the world. He has made a lot of good business and investment decisions in his life that have made him one of the wealthiest players to ever put on an NBA jersey.
But life was not as comfortable for Shaq growing up. He had to struggle in his early years for basic necessities. Shaq's mother Lucille O'Neal has been open about her struggles raising Shaq and his siblings alone as a single mother. They had to live on a strict budget.
Resources were hard to come by and opportunities were scarce. She had to battle tooth and nail to provide Shaq with the opportunity to become a world-class basketball player.
Mother Lucille on raising a young Shaquille O'Neal
Lucille O'Neal remembers the trials and tribulations of fending for herself all alone as a teen mom. She gave birth to Shaq at just 18 years of age.
"I was a baby myself, just out of high school. But I grew up and became a woman quick. I knew I had a big, big responsibility then," she said. She recalls the difficulty of working and taking care of children at the same at a very young age. But the tough times made her and her children stronger.
In an interview with Today, she explained her life as a young, single mom.
READ MORE: Teen Sensation Coco Gauff Compares Herself to Warriors Star Draymond Green
"17-you absolutely do not know what you're doing. So you do the best you can with what you have to work with," said Lucille, "And then just take a day at a time."
Shaq on his father
Shaq doesn't hold a grudge against his biological father for abandoning him. He realizes that his old man had some problems and has made peace with the fact.
In fact, in a conversation with Dr. Phil, he said you can't judge anybody, "I don't judge him. I don't fault him".
However, Shaq is very grateful for the role his step-father played in his life. He often talks about him disciplining him and preventing him from being a juvenile delinquent.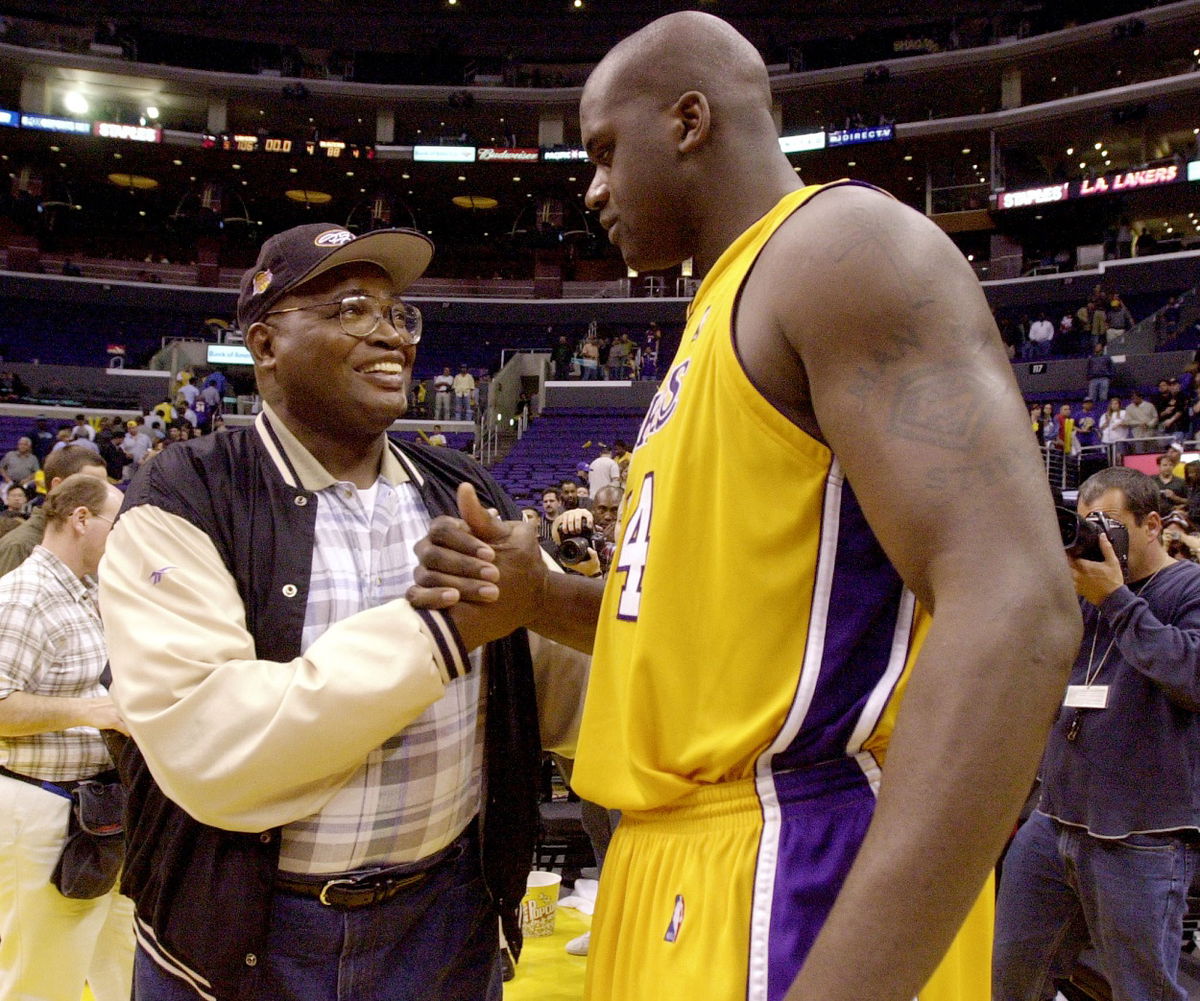 LOS ANGELES, UNITED STATES: Shaquille O'Neal (R) of the Los Angeles Lakers is congratulated by his father Philip Harrison (L) after the Lakers defeated the Portland Trail Blazers 106-88 in Game Two of the NBA Western Conference first round play-offs at the Staples Center in Los Angeles, CA 26 April, 2001. Daniel was the high scorer with 32 points as the Lakers take a 2-0 lead in the series. AFP PHOTO/ Vince BUCCI (Photo credit should read Vince Bucci/AFP via Getty Images)
Moreover, he also instilled a lot of good habits in Shaq, which would help him in his NBA career.
WATCH THIS STORY: Boston Celtics vs Miami Heat: Top 5 Plays
Shaq has admitted that his step-father showed him how to be a man. And now he intends to follow in his footsteps.
The post Mother Lucille on Having Shaquille O'Neal at Age 18 After His Biological Father Left appeared first on EssentiallySports.